When London was capital of America
"

Beautifully reimagining a city that was a distant but integral part of American life... essential reading

"
Andrea Wulf,
New York Times Book Review
Read More Reviews...
Georgian London gets an American makeover in this first-ever biography of the famous city as the capital of the American colonies. For colonists like Benjamin Franklin, London was the simply the most exciting place to be in the British Empire.
Read more about the book...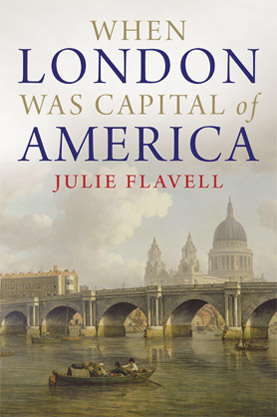 Historic London Walks

Take a walk through this city and discover Colonial America's biggest living history museum. The one-time capital of the 13 Colonies has enough Colonial landmarks to rival Boston and Philadelphia combined.
Find Historic Walks...
Publications

New Yorker Stephen Sayre became the first American prisoner in the Tower of London when he hatched a terrorist plot to kidnap the King and save American liberties.

An 18th century painting discovered in a second-hand stall held clues to a long-forgotten crime.

For South Carolina slave Robert Scipio, a trip to London in 1771 with his master Henry Laurens would be an empowering new experience.
Julie Flavell

I was born in the United States and grew up in Massachusetts, where I acquired a life-long interest in the American Revolution.
Read more about me...