When London was capital of America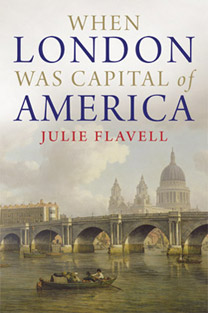 In this unique book, Julie Flavell brings to life a missing chapter of London's history when it was the centre of an empire that stretched from North America to the West Indies and Africa.
Set in the momentous years just before American independence, When London Was Capital of America interweaves the stories of colonial American visitors to the city with the forgotten American features of Georgian London. Despite the conflict over colonial rights, London was experiencing its first big wave of American visitors.
No innocents abroad, the individuals whose stories are told here - an enterprising house slave from South Carolina, Ben Franklin in search of a second career, a plantation owner and his rebellious son, a Yankee merchant who almost became Lord Mayor, and a southern belle who found herself an unwed mother - vividly recreate a time when Americans saw London as their own, and London's world view was being challenged by the influx of its exotic and multiracial fellow subjects from the New World.
When London Was Capital of America reminds us of the complex, multiracial - at times even decadent - nature of America's colonial British heritage.
Read the Reviews of 'When London Was Capital of America